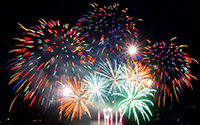 Global art sales last year reached an all-time high, beating the last record high set in 2007. For the first time, art sales around the world totaled a record €51 billion ($61 billion), according to The European Fine Art Fair (TEFAF) 2015 Art Market Report. Most of the art sales in 2014 took place in the US (39 percent), China (22 percent) and the UK (22 percent).
What was popular last year? Contemporary and Post War art by far! Defined as art by artists born after 1910, Contemporary and Post War art accounted for 48 percent of global art market sales. Impressionism/Post Impressionism and Old Masters followed at 12 percent and 8 percent respectively.
The domination of Contemporary and Post War art means a lot at Windows to the Divine®. It is our mission to support artists in their vocation. We believe that artists are inspired by the divine, and that they have a special calling to bring beauty into the world, thereby promoting the good—and our world today needs more of the good! Our exhibitions feature art by today's living artists, supporting them in their divine vocation.
The TEFAF Report also noted that the global market is highly polarized, with a large share of sales by value being dominated by a relatively small number of artists, buyers and sellers. At Windows to the Divine® we aim to change that. The record high in art sales last year was due in part to the growth of online sales, which encouraged more sales of lower priced art. Through our new website and the new online Collectors for Connoisseurship membership program, we are encouraging everyone to love and collect art by enabling relationships between art lovers and artists and promoting connoisseurship and art sales.
We want everyone to be an art collector, regardless of financial means. As Windows to the Divine® expands with our new website and programs, we hope to play a part in making 2015 an even better year for global art market sales.
For more about the TEFAF report click here.
Shannon Robinson is the curator and chairperson of the national exhibition Windows to the Divine and the national plein air event Altitude and Attitude. More about Shannon…
Banner Image Above: Kathy Anderson, Pomegranates, Windows Exhibition 2014 (Private Collection)