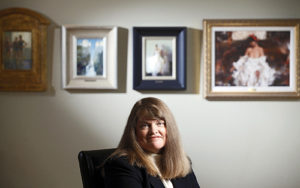 Shannon is a former corporate litigator who retired to become the president of a unique nonprofit foundation known as Windows to the Divine which promotes both patronage and philanthropy through the arts. Through exhibitions, symposia and salons hosted in collaboration with museums, galleries and other nonprofits, the foundation encourages everyone to become a patron of the arts and support the vocation of the living artist. Her goal is to make sure that each person she encounters regardless of wealth can share that unique joy that only art can bring.  In addition to encouraging patronage of the arts, the foundation also promotes philanthropy by supporting the vocations and charitable works of the Dominicans in Denver in their service of the homeless and elderly at Samaritan House and Mullen Home.
Since 1999, Shannon has served as the curator and chairperson of the Windows to the Divine biennial national exhibitions. In 2015, through the foundation, she also launched a national network of collectors and artists called Collectors for Connoisseurship (C4C) which provides educational programming and access to special arts events such as the C4C Arts Weekends that have been held at The Denver Art Museum, The Metropolitan Museum, the Salmagundi Club, and the Savannah College of Art & Design.
In October of 2022, the C4C Arts Weekend will be held in the Hamptons with educational programs, tours of private art collections and a special exhibition entitled Beauty. The exhibition will be staged at the historic "Windy Dune Estate" and will feature the contemporary works of 11 nationally renowned artists: Lu Cong, Scott Fraser, Ron Hicks, Quang Ho, Dan McCaw, Danny McCaw, John McCaw, CW Mundy, Daniel Sprick, Adrienne Stein, and Vincent Xeus (who will receive the 2022 Fra Angelico Artist of the Year Award).
As an art collector for over 30 years, Shannon is passionate about the arts and education. Her work as an advocate for artists and art collecting has been featured in several arts publications, including Southwest Art Magazine, Fine Art Connoisseur and Larry's List. With her Master's certification from Regis University in Art History and Collecting, Shannon speaks on a wide range of topics at collector salons and symposia hosted by Windows to the Divine and its partners at museums and galleries in Colorado and around the country.