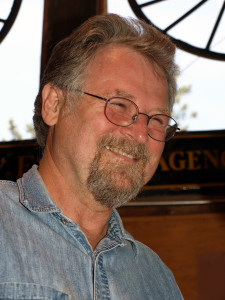 Born in Decatur, Illinois, Lynn grew up in Saint Louis. At the age of nine he started studying the masters Michelangelo, Bridgeman and Shephard. In high school, he continued studies with the Minneapolis School of Art on a full scholarship. Enlisting early at the age of 17, he joined the "kiddy cruise" to Viet Nam, to fund his way for art school. In 1968 he started studies with John Jellico at the Colorado Institute of Art and maintained his ties with this institution for the next 27 years, first as a student and then as a teacher. He taught over 53 subjects and left to be a full time artist when the Institute switched to a more technologically oriented program as the Art Institutes International.
During his teaching career Lynn pioneered teacher training programs working with Houghton Mifflin and the Master Student text. He continues this work to this day as a consultant with private schools helping teachers find a passion for teaching. From 2005 to 2014 he joined the School Board for the R-1 School District in Costilla County, Colorado and helped build a new school.
Following in the footsteps of his early artistic heroes and teachers who contributed to the trove of artistic treasures in Rome, Lynn presented a torso of his first crucifix to His Holiness John Paul II for the Vatican collection in 2002. Subsequent to his acceptance in this Collection and his own interview with Pope John Paul, Lynn was asked how he felt about this international recognition. "Humbled" he replied, "… with great honor comes great responsibility, to take my skill to a new level."
In 1997 he left the Art Institutes and turned to his studio in the southern part of the San Luis Valley His studio, which he runs with his spouse Jane, has placed hundreds of sculptures in churches nationwide. His latest project brought him to the leadership of a group of 9 other renowned artists to craft a set of heroic sized bronzes for a retreat center outside of Omaha, Nebraska, Cloisters on the Platte, to depict the Stations of the Cross.
About the Artist
By John Jellico
Former Associate Editor American Artist Magazine
Former Assistant Editor Southwestern Art
… In all of his works he communicates his overflowing passionateness, his ecstatic appreciation for reaching others through his art. He achieves this high expressiveness by daring use of color with new and surprising strokes and lines…
…His bronzes seem to embody a definite feeling of humility and passion… The mystery of creation has always been a subject of inspiration to Lynn…
…the Process
An art teacher for over twenty years, Lynn is well acquainted with communications, interpersonal relations, and materials and is at home with paint or clay and production of bronzes. The years he spent as head of the Life Drawing Department the Institute and in the solitude of his studio refined his portrayal of inspirational figurative work and helped mature his work with a sound understanding of anatomy and emotional expression. There is no compromise.
Links to Videos/Articles:
Watch Kircher working on replica of Kapaun crucifix 2014.
Colorado Central Magazine, Sculpting Humanity, Jaroso Artist
Lynn Kircher by Kenneth Jensen (April 2012)
Representative Works: