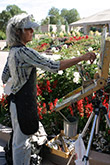 En plein air is a French expression that means "in the open air" and is most often used to describe the act of painting outdoors with the artist's subject in full view. Plein air artists capture the spirit and essence of the outdoors by incorporating natural light, color and movement into their works.
While painting en plein air is a familiar concept today, in the late 19th century, when Impressionist painters like Monet, Renoir, Pissaro, Cezanne and Van Gogh ventured outside to investigate and capture the effects of sunlight on a subject of nature, especially at different times of the day, the idea was revolutionary.
Don't Miss the 4th Annual Plein Air Convention & Expo in Monterrey, CA from April 13-17, 2015.
Today there is a great love for plein air painting throughout the U.S., as evidenced by the gathering of 800 artists at Plein Air Magazine's 4th Annual Plein Air Convention & Expo, April 13-17 in Monterey-Carmel, Calif. The four-day event includes presentations on everything plein air—the basics, brushmaking, painting critiques, painting landscapes and, of course, lots of well-known artists painting plein air. Windows to the Divine® founder and director Shannon Robinson will be a presenter at the convention on April 13 at 2:00 pm. Robinson's presentation will explore the explosion of the global art market and how it impacts artists today.
During the last 20 years we've seen a resurgence of interest in plein air painting throughout the U.S., not only from artists but also from collectors. Major events occur each year around the country where art lovers and artists of all levels enjoy the special camaraderie found only at outdoor painting events. Also called Paint Outs, plein air events today attract spectators—there's just something special about seeing an artist at work outside. Paint Outs give artists a chance to share their talents and creativity with the public and each other.
Windows to the Divine® has hosted three Plein Art Paint Outs in the Denver area. Shows were held in 2009, 2010 and 2012 at sites of exceptional natural beauty in the Rocky Mountains, at the Denver Botanic Gardens and in Denver's Washington Park neighborhood.
View photos of Windows Paint Outs:
"Altitude & Attitude" Paint Out 2012
Windows to the Divine® Paint Out 2010
Windows to the Divine® Paint Out 2009
Next time you see a work of art depicting a landscape, clouds, flowers, a bird or a tree, picture an artist painting outside—plein air—and imagine the influence of the elements. And know that there are events designed to let you watch! Better yet, attend a plein air event!
Upcoming Plein Air Events in the West

Plein Air Magazine
4th Annual Plein Air Convention & Expo
April 13-17, 2015
Monterey-Carmel, CA
Plein Air Artists of Colorado (PAAC)
19th Annual National Juried Exhibition
August 1-30, 2015
Boulder, CO
Plein Air Artists of Colorado (PAAC)
100th Anniversary of Rocky Mountain National Park
September 23-26, 2015
Grand Lake, CO
Plein Air Painters of New Mexico (PAPNM)
New Mexico 2015 Paint Out
May 12-15, 2015
Santa Fe, NM
Post written by Susan Alter Stoveall, a Denver-based marketing consultant specializing in art, museum and nonprofit marketing.