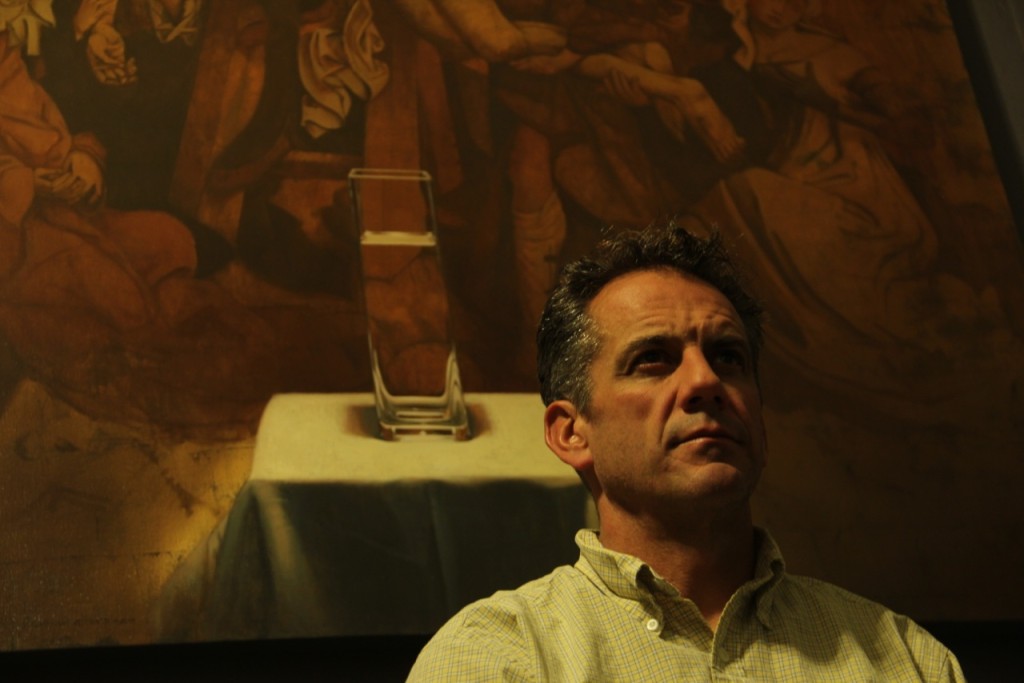 Richmond's work is the presence of absence—or, the exquisite longing for the unattainable."
Ron Richmond is fascinated with symbolism both in subject matter and in form. "I like to explore the relationship of opposites," said Richmond, "light and darkness, the living and the decaying, order and chaos, sin and redemption, the ethereal and the concrete."
 According to John Carlos Villani, of The Arizona Republic, "To quickly walk past a Richmond painting is practically impossible, in part because it radiates a sense of compositional incompleteness. This powerful vacancy grabs the eye and translates as both disturbing and serene."
 Richmond paints in oil "with a subdued palette, masterfully employing geometric relationships within his images," according to Villani.
 Scholar and writer Josh Probert compared Richmond's use of juxtaposed planes of color in his work to the color field paintings of twentieth-century American artist Mark Rothko. Like Rothko, Richmond has the "ambition to ground deeper meaning of aesthetics through the accession of pure form," said Probert.
"Richmond's work seems to occupy a certain niche wherein formal properties, combined with only slight references to narratives or [religious] principles, invite potential narratives to manifest themselves," he said.
Richmond has exhibited his paintings in galleries and museums in major cities throughout the United States such as New York, Washington D.C., Houston, Atlanta, and San Francisco, and in London. His work is collected by museums; corporations such as Saks Fifth Avenue, Continental Airlines, Credit Suisse and Omni Hotels; as well as by many private individuals. He was commissioned by Utah State University to paint a mural that hangs in the Bingham Research Center in Vernal.
Richmond received M.F.A. and B.F.A. degrees from Brigham Young University. He has worked as a professional artist for 20 years. He was born in Denver, Colorado and currently lives in a small town in central Utah.
"Visual magic without a larger purpose leads nowhere but to empty excess," said Geoff Wichert in the online magazine 15bytes. "Ron Richmond … found a way out of this dilemma—a way to make art that is at once visually magical and yet substantial in content and meaning."
Links to Videos/Articles:
Representative Works: