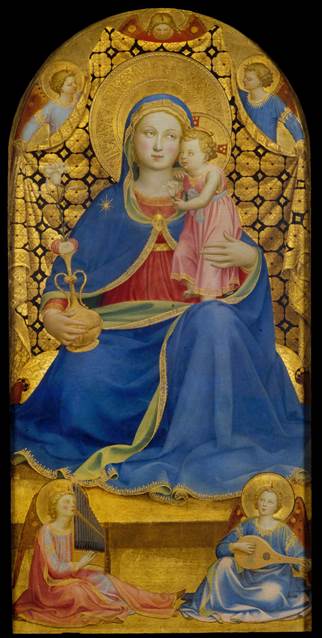 Welcome to Windows to the Divine. We are a nonprofit with a two-fold mission of promoting the Catholic vocations of the mendicant Order of Preachers, known as the Dominicans as well as the vocation of the living artist. We accomplish this mission through the beauty of art.
As you will see from the videos below, the Dominicans have a long history of supporting the arts. Drawing upon that connection, our nonprofit sponsors art exhibitions, symposia, and salons in which we encourage everyone to affirm the special vocation of the artist and to recognize God in the beauty that surrounds us.
With the funds we raise through our art events, we support the Dominican Novitiate in Denver that educates the first-year novices of the Dominican Central Province of the United States. During their formation, the ministries of our novices include serving the homeless and impoverished elderly at Samaritan House and Mullen Home, respectively.
As Catholics, we should be aware of and celebrate the patronage of the Catholic Church and its significant contributions to the history of Western Christian art. In these short videos, you will learn about the important role of the Church in perpetuating the faith through art. You will also learn about the religious, political and cultural forces from early Christianity to modern times that influenced the evolution of art from sacred to spiritual to secular. Video 1 covers Early Catholic Art to the Protestant Reformation. Video 2 covers the Catholic Counter-Reformation to today. Above all, you will come to appreciate the Catholic vision which contends that the pursuit of beauty is fundamentally the pursuit of God who is the source of all beauty.
And if you are in Denver from November 5-7, 2020, be sure to either view our exhibition online (catalogue will be posted in October) or come and see it in person at the Space Gallery Annex located at 95 S. Cherokee, Denver, CO. For the safety of our visitors, viewing will be by appointment and/or admission will be time-entry limited for our planned opening on Thursday, 11/5.
The national exhibition, entitled Contemporary Visions of Beauty will include the works of:
Blair Atherholt, Carolyn Barlock, Jill Basham, Daniel Bilmes, Gregory Block, Casey Childs, LuCong, Michelle Dunaway, Scott Fraser, Ann Gargotto, Ron Gerbrandt, Ulrich Gleiter, Albert Handell, Stephanie Hartshorn, Ron Hicks, Quang Ho, Jane Hunt, Carol Jenkins, Brendan Johnston, Andrea Kemp, Kyle Ma, David W. Mayer, Dan McCaw, Danny McCaw, John McCaw, Ned Mueller, C.W. Mundy, Desmond O'Hagan, Ron Richmond, Don Sahli, Jill Soukup, Daniel Sprick, Adrienne Stein, Cheryl St. John, Teresa Vito, and Vincent Xeus.
If you have any questions or would like to get involved, please email Shannon Robinson at [email protected].