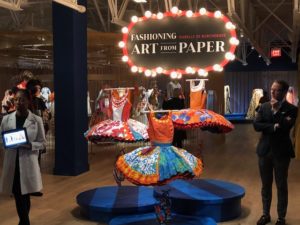 While museum goers have long had the opportunity to view and admire historic textile costumes from around the globe, in Atlanta at the SCAD FASH Museum, the public is invited to an exceptional exhibition of highly detailed sculptures created from mere paper and paint by the Belgian artist, Isabelle de Borchgrave.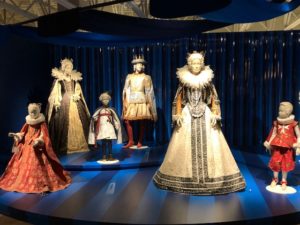 In her exhibition, entitled Fashioning Art from Paper, Isabelle presents incredible sculptural replicas of costumes over a 500-year period beginning with the Renaissance and the Medici family shown here.  It is hard to believe that the elaborate lace collars, ruches, pearl necklaces and other finery are all made of paper!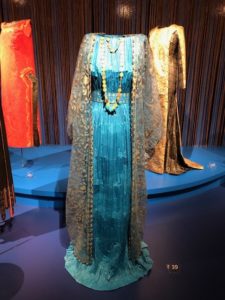 From elaborate period gowns to 20th century couturiers such as Worth and Poiret to this spectacular turquoise gown inspired by Mariano Fortuny– all command awe from the viewers as they move from one breathtaking creation to another.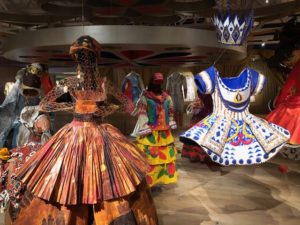 In the center of the exhibition, SCAD installers created a ring of exotic and colorful hanging costumes created by the artist from her "Les Ballet Russes" series interpreting costumes designed by Leon Bakst, Giorgio de Chirico and Pablo Picasso.
Over her 40-year career, Isabelle's works have been exhibited internationally, including Belgium, China, England, France, Greece, Italy, Japan, Sweden, Switzerland, and the USA, and can be seen in museums throughout the world.  Her latest creations were inspired by her visit to the Metropolitan Museum in New York in 1994.  Paper costumes and tromp l'oeil became the focus of her collections which have achieved worldwide recognition and made her an international name and reputation associated with fashion and paper.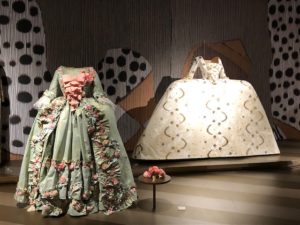 Kudos to the artist and co-organizers, SCAD FASH, Dixon Gallery and Gardens, Society of the Four Arts, Oklahoma City Museum of Art, Frick Art and Historical Center, Baker Museum and Flint Institute of Arts for a spectacular take on fashion made of paper!
The exhibition is located at the SCAD Fashion Museum in Atlanta and will run through January 12, 2020.  So, if you are in Atlanta during that time, be sure to stop by.  Our Collectors for Connoisseurship (C4C) group considered it a highlight of our recent C4C Arts Weekend in Atlanta and Savannah from Nov 7-11.
Shannon Robinson is the curator and chairperson of the biannual exhibition Windows to the Divine and the annual Collectors for Connoisseurship Arts Weekends (Nov 7-11, 2019 Atlanta & Savannah).