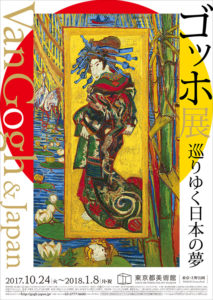 While many Western art enthusiasts of the works of Vincent Van Gogh are well aware of the artist's fascination with the art and culture of Japan, and the particular clamor for all things Japanese that was the rage in Paris in the late 18th century ("Japonisme"), we may not be aware of the ongoing love affair by the Japanese for all things Van Gogh.  This past week, on the day before the exhibition closed in Tokyo, I found myself sandwiched in a crowd of hundreds of Japanese museum goers waiting patiently for admission to the Van Gogh & Japan exhibition staged at the Tokyo Metropolitan Museum of Art.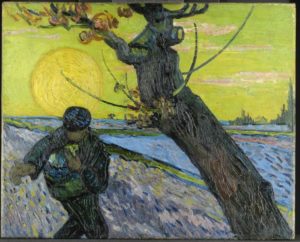 The ambitious exhibition not only included 40 works by Van Gogh on loan from private collections and museums (Van Gogh Museum in Amsterdam made key loans such as well-known works, The Sower (1888) and The Bedroom (1888)), but also included some of Van Gogh's ukiyo-e prints from his own collection which make evident the Japanese influence on Van Gogh's work (notably his cropping of images, lack of horizon, use of diagonals and strong colors and reverence for the importance of nature and its spirituality) as seen in the exhibition work, Les Alyscamps shown below.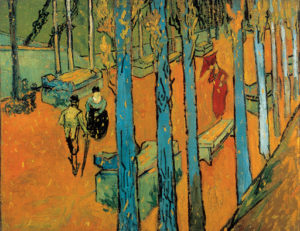 Notably, the exhibition contained many passionate quotations by Van Gogh regarding his keen admiration of the Japanese approach to art and life equating the culture to an artistic utopia particularly with respect to its fraternity amongst artists (which he sought unsuccessfully to replicate in Arles with artists such as Gauguin). Ironically, although Van Gogh never traveled to his beloved Japan, it would be the Japanese who would make pilgrimages to Arles (as evidenced by the guestbooks filled with the names of Japanese artists who visited the home of Paul Gachet Jr., the son of Van Gogh's doctor that were on loan from the Musée Guimet in Paris) and whose works as shown in the exhibition would be so influenced by Van Gogh.
If you missed it and will be in Europe this Spring, the exhibition will travel to the Van Gogh Museum in Amsterdam for its final showing from March 23rd to June 24th.
Shannon Robinson is the curator and chairperson of the biennial exhibition Windows to the Divine (April 12-18, 2018) and the C4C Arts Weekends (Denver April 12-14 and Paris May 23-26 of 2018). More about Shannon…