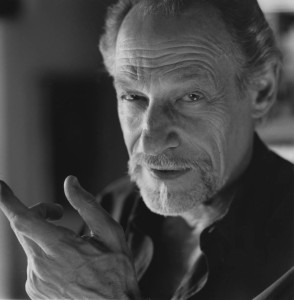 Born in New York City, David A Leffel graduated from Parson's School of Design while also attending Fordham University at night. Between 1959 and1960, with the help of a Merit Scholarship, he learned the fundamentals of chiaroscuro painting at the Art Students League of New York in Frank Mason's class. Only a few years later, he returned to the League as an instructor and in the next 25 years left an important legacy of influence with the thousands of students whose lives he touched while teaching them about life and art in the north light of Studio 7, a classroom that boasted such past instructors as Edwin Dickinson and Frank Vincent Dumond.
Leffel's work has been exhibited in numerous important shows, including the National Academy of Design in New York City, the Gilcrease Museum in Tulsa, OK, and the National Cowboy and Western Heritage Museum in Oklahoma City where he was a member of the artists' group NAWA (National Academy of Western Artists), which later became the Prix de West show. In their annual show his work received one silver medal and three gold medals, his first gold being awarded to a self-portrait. He was part of the artists' stable in New York City's Grand Central Galleries in the 70s and 80s, and as his reputation as a consummate artist grew, he received a visit from one of history's most intriguing political figures, Madam Chiang Kai-shek. Her interest in Western painting and specifically in Leffel's work may explain his current widespread popularity in China, which started years ago with an invitation to the First American Art Exhibit in Beijing, China and reemerged in a recent traveling exhibit of realist artists with the America China Oil Painting Artists League (ACOPAL).
Leffel is not only recognized by his peers as a painters' painter, he is also considered by many to be no less than the artistic reincarnation of Rembrandt. He continues to spread his special understanding of how painting works with students worldwide through membership to an online instructional library, The Artists Guild at Bright Light Fine Art.
Leffel's work resides in the permanent collection of the Gilcrease Museum in Tulsa, OK; the Museum of the Southwest in Midland, TX; the J.B. Speed Art Museum in Louisville, KY; the Elizabeth T. Greenshields Foundation in Montreal, Canada; and the New York Racing Association in New York, NY, which acquired his famous painting of Belmont Race Track. His work is also found in some of the most important private collections compiled today. In May of 2016 Leffel will have a comprehensive retrospective at the Weisman Museum in Malibu, California where work from as young as age 12 will hang along side his most recent masterpieces.
A talented writer, Leffel has authored two books, An Artists Teaches: Reflections on the Art of Painting and Self-Portraits: A Journey of Insight, both published by Bright Light Publishing. Bright Light Fine Art and director George Gallo are working on a documentary of his extraordinary life that should be completed by early next year.
Links to Videos/Articles:
Representative Works: