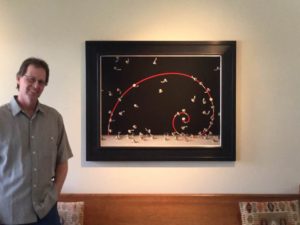 Scott Fraser is one of America's top contemporary realist painters. With his appreciation for art history, ranging from the Dutch Masters to American modernists like O'Keeffe, Fraser masterfully transitions to the post-modern era through his deft and complex still life paintings of contemporary subjects. Referencing the classical tableaux, Fraser's contemporary arrangements juxtapose modern mundane objects in tantalizing ways that tease, intrigue and challenge the viewer. Drawing upon objects with personal or autobiographical meaning Fraser's works often combine humor with a sense of mystery that is evocative and mesmerizing not only because of his riveting concepts, but also because of his impeccable and painstaking attention to beauty and craft.
Fraser's works are contained in the permanent collections of more than 25 American museums, including the Metropolitan Museum, Denver Art Museum, Philbrook Museum, Whitney Western Art Museum, Evansville Museum, Brandywine River Museum, Kirkland Museum, San Diego Museum of Art and the Arizona Sonora Desert Museum. His works were recently added to the collection of the Acadia Foundation in Maine and the New Britain Museum of American Art in Connecticut.
Upcoming Shows/News:
In 2016, Fraser's work will be exhibited by the Delaware Art Museum in "Truth & Vision: 21st Century Realism" and his upcoming exhibitions include The Renaissance of Realism to be held at Gallery 1261 in Denver in connection with the National Collectors for Connoisseurship Symposium to be held at the Denver Art Museum on November 13, 2015.
Links to Videos/Articles:
Representative Works: