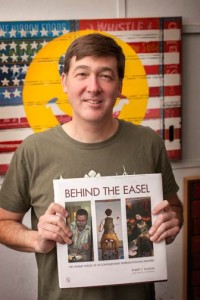 Robert C. Jackson (b. 1964 Kinston, NC) is the oldest of 5 brothers that were each born in different states around and about the Southeast. This transient lifestyle obviously followed Robert into his career path as he worked as an Electrical Engineer (designing radio systems for Motorola from 1986-1990) and then as an Assistant Pastor (for Cedar Ridge Community Church in Maryland from 1990-1996), before settling down to his full-time and fulfilling career as a contemporary still life artist (1996-present). Since then, all of these life experiences of his past inform and influence his creativity of today.
Jackson's paintings are contained in the permanent collections of such institutions as the Brandywine River Museum of Art, Delaware Art Museum, South Dakota Art Museum, New Britain Museum of American Art, and the Evansville Museum of Arts, History, and Science.
---
Website: http://www.robertcjackson.com
---
Upcoming Shows/News:
In 2016, Jackson's artwork will be exhibited in the Delaware Art Museum in "Truth & Vision: 21st Century Realism" based off of his book Behind the Easel: The Unique Visions of 20 Contemporary Representational Painters.  Upcoming exhibitions include Still Life, to be held at Gallery Henoch in NYC from November 5-28, 2015 and The Renaissance of Realism to be held at Gallery 1261 in Denver in connection with the National Collectors for Connoisseurship Symposium to be held at the Denver Art Museum on November 13, 2015.
Links to Videos/Articles:
Videos: 
Articles: 
Books: 
Representative Works: