Dr. Timothy Standring
Gates Foundation Curator of Painting and Sculpture, Denver Art Museum
Keynote Speaker

Dr. Timothy J. Standring is the Gates Foundation Curator of Painting and Sculpture at the Denver Art Museum. Since his arrival at the museum in 1989, he has curated nine exhibitions at the Denver Art Museum, including the highly successful Inspiring Impressionism, El Greco to Picasso from the Phillips Collection and Impressionism: Paintings Collected by European Museums. Prior to coming to the DAM, Standring held positions as an associate professor of art and director of the School of Art and Art History at the University of Denver. Standring was also a faculty member at Pomona College, Lawrence University and Loyola University of Chicago. He has served as a guest scholar at the J. Paul Getty Museum, as a senior fellow at the Center for Advanced Studies in the Visual Arts (CASVA) at the National Gallery of Art and has received numerous other grants and fellowships. His publications have covered topics including the art collecting habits of 17th century Roman patrons, essays on European artists, British watercolor landscapes and more. Standring received his bachelor of arts from the University of Notre Dame and attained his PhD in 1982 from the University of Chicago.
Standring has also been the curator and organizer of several recent groundbreaking exhibitions at the DAM, including Becoming Van Gogh (2012) and now Wyeth: Andrew and Jamie in the Studio (2015).
---
Shannon Robinson
Speaker & Moderator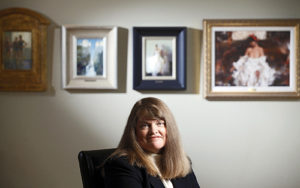 Shannon Robinson is the curator and chairperson of the national exhibition Windows to the Divine and the national plein air event Altitude and Attitude. Held in Denver, both events are hosted by the Colorado Dominican Vocation Foundation, a nonprofit organization dedicated to promoting the vocation of living artists and the Dominicans. In her work as a founder and president of the foundation, Shannon fosters the vocation of the artist through exhibitions, collector salons and national symposiums in collaboration with galleries and museums. She is also the founder of a new Windows to the Divine program, Collectors for Connoisseurship, an online community of collectors, artists and art lovers.
A longtime art collector with more than 20 years of public speaking experience as a trial attorney (now retired) with a recent masters certification in Art History and Collecting from Regis University, Shannon is a passionate advocate for connoisseurship. On behalf of the foundation, she speaks on a wide range of topics at collector salons hosted by Windows to the Divine and its partners at venues in Colorado and around the country. Her work as an advocate for artists and art collecting has been featured in several arts publications, including Southwest Art Magazine and Fine Art Connoisseur.
Shannon is privileged to work with the Dominican friars of the Central Province to advance their charitable works and mission. She is also involved in the promotion of the arts and interfaith dialogue through her work as the chairperson of the community board for the Mizel Museum in Denver.
---
Peter Trippi
Speaker and Member of Collector/Expert Panel

Peter Trippi is editor-in-chief of Fine Art Connoisseur, the bimonthly magazine that serves collectors of historical and contemporary representational painting, sculpture, drawings, and prints. He is also president of Projects in 19th-Century Art, Inc., the firm he established to pursue a range of research, writing, and curating opportunities. Trippi holds a MA from New York University in Visual Arts Administration, as well as a MA in Art History from the Courtauld Institute of Art, London. As director of New York's Dahesh Museum of Art, Trippi guided its renovation of the former IBM Gallery and presentation of nine exhibitions of 19th-century European art. In 2002, Phaidon Press published Trippi's 250-page monograph J W Waterhouse, which reassesses the Victorian painter and Royal Academician best known for his Lady of Shalott at Tate Britain. Trippi went on to guest-curate the Waterhouse retrospective that appeared at the Groninger Museum in the Netherlands, London's Royal Academy of Arts, and the Montreal Museum of Fine Arts. He is now co-curating a touring exhibition about the Victorian painter Lawrence Alma-Tadema, to open in 2016 at the Fries Museum, in the Dutch artist's native city, Leeuwarden. In 2013, Trippi completed a two-year term as president of the nonprofit organization Historians of British Art, and then became president of the Association of Historians of Nineteenth-Century Art.
---
David A Leffel
Artist Panel Member
David A. Leffel, is not only recognized by his peers as a painters' painter, he is considered by many to be no less than the artistic reincarnation of Rembrandt. He grew up in New York City where he had a brief career in advertising, but eventually came to chiaroscuro painting at the Art Students League with Frank Mason. Soon he would become a revered instructor there, sharing his special understanding of painting with thousands of students from all over the world. He is recognized as a modern master by colleagues and collectors alike. Although his subjects range from figure and portrait to landscape and still life, his real subject matter is light flowing and drifting over surfaces. His work can be found in permanent Museum collections throughout this country as well as numerous private collections here and abroad. Leffel has written two books that have met world-wide acclaim for their ability to integrate his understanding of technical aspects of painting with his philosophy and humor. Appreciated by artists and collectors alike, An Artist Teaches and Self-Portraits: A Visual Journey of Insight have both been published under the Bright Light imprint.
---
Sherrie McGraw
Artist Panel Member
Sherrie McGraw is recognized as one of America's foremost artists and teachers. She both studied and taught at the famed Art Students League of New York and her work has received many awards from prestigious New York art organizations, such as the Salmagundi Club and the National Arts Club. Her work has been included in a number of shows in major museums throughout the country, including the Butler Institute of American Art where she had a major retrospective in 2014. Its Board of Trustees recently awarded her their highest award—the Medal of Honor for lifetime achievement in American Art.
McGraw lectures for art institutions such as the Portrait Society of America, Brigham Young University, and the Academy of Art University in San Francisco, where she was awarded an honorary doctorate in 2010. A gifted writer, she has authored her own instructional book—The Language of Drawing—which is now considered by many to be the definitive book for understanding the knowledge that all good draftsmen share.
---
Robert C. Jackson
Artist Panel Member
Robert C. Jackson (b. 1964 Kinston, NC) is the oldest of 5 brothers that were each born in different states around and about the Southeast. This transient lifestyle obviously followed Robert into his career path as he worked as an Electrical Engineer (designing radio systems for Motorola from 1986-1990) and then as an Assistant Pastor (for Cedar Ridge Community Church in Maryland from 1990-1996), before settling down to his full-time and fulfilling career as a contemporary still life artist (1996-present). Since then, all of these life experiences of his past inform and influence his creativity of today.
Jackson's paintings are contained in the permanent collections of such institutions as the Brandywine River Museum of Art, Delaware Art Museum, South Dakota Art Museum, New Britain Museum of American Art, and the Evansville Museum of Arts, History, and Science.
In 2016, Jackson's artwork will be exhibited in the Delaware Art Museum in "Truth & Vision: 21st Century Realism" based off of his book Behind the Easel: The Unique Visions of 20 Contemporary Representational Painters. Upcoming exhibitions include Still Life, to be held at Gallery Henoch in NYC from November 5-28, 2015 and The Renaissance of Realism to be held at Gallery 1261 in Denver in connection with the National Collectors for Connoisseurship Symposium to be held at the Denver Art Museum on November 13, 2015.
---
Kristin Hoerth
Member of Collector/Expert Panel
Kristin Hoerth joined the editorial staff of Southwest Art Magazine in 1994 and has served as Editor in Chief since 2002. Under her leadership, the magazine's editorial content has expanded from a narrow focus on western subject matter to a broad range of representational art created and sold in the western United States and beyond. She has overseen other aspects of the magazine's expansion as well: the publication of Sculpture of the Rockies, a first-of-its-kind coffee-table book; annual art competitions; and a full suite of digital offerings, including a comprehensive website, online newsletters, and social media. In 2005 Southwest Art won a silver medal for editorial excellence in an annual publishing industry competition; in 2011 the magazine celebrated its 40th anniversary with a special anniversary issue. Hoerth also serves as Editor in Chief of a sister publication called the Collector's Guide, an annual guidebook to the art of New Mexico.
Hoerth travels widely to attend art events across the country, where she frequently served as juror and speaker. For several years she conducted popular on-stage interviews with the Oil Painters of America's Distinguished Artists at its National Juried Exhibitions. She has also served for many years on the jury panel for the Western Heritage Awards sponsored by the National Cowboy & Western Heritage Museum. She has authored forewords for art books and presented professional-development webinars for fine artists. Hoerth graduated cum laude in English from Duke University in Durham, NC.
---
Tim Newton
Member of Collector/Expert Panel
An art collector for 25 years, Tim Newton has amassed a collection of some 300 works. Widely acknowledged for his discerning eye, his is a collection of great diversity which includes pieces by Richard Schmid, John Stobart, Sherrie McGraw, Don Demers, Christopher Blossom, Clyde Aspevig, Bill Acheff, Lanford Monroe, Curt Walters, Tim Shinabarger, Walter Matia, and Quang Ho. The collection has been featured in several magazine articles.
Tim is the founder and curator of American Masters, an annual art exhibition and sale at the famed Salmagundi Club in New York City. Since its inception in 2008, the show has exhibited some of the very best in American contemporary art. Tim created and runs this annual exhibition (as a volunteer) for the benefit of the Salmagundi Club. All of the profits from American Masters have gone to begin and support the Gallery Renovation project.
He is a sought-after speaker on the subject of art and collecting. Frequently a judge of art competitions, he has judged the Oil Painters of America – Master and Signature Members Show, the Mystic International Maritime Exhibition at Mystic Seaport as well as Plein Air Easton in Easton, Maryland.
Tim is serving his third term as Chairman of the Board of the Salmagundi Club. He also serves on the Board of the Artists' Fellowship, the Board of Trustees for the Stobart Foundation and the Board of Advisors for the Clark Hulings Foundation.
---
Stephanie Birdsall
Member of Collector/Expert Panel
Stephanie Birdsall is both a collector and a professional artist. She received her formal training at the City and Guilds of London Art School in England. She is now a member of the Vermont Putney Painters where she paints regularly with Richard Schmid and Nancy Guzik. Her work has been exhibited at the Royal Academy Summer Exhibition in London and Bargemon in France and at the National Arts Club in New York. Stephanie has garnered more than 30 major awards in national and international juried exhibitions, including Best in Show at the Bridgeport Museum of Arts and Science, the Grumbacher Gold Medallion Award, the Degas Pastel Society Exceptional Merit Award, the Connecticut Pastel Society Herman Margulies Award and the Catherine Lorillard Wolfe Art Club, John Manship Award. Her work has been featured in International Artist Magazine, Southwest Art, Plein Air Magazine and The Pastel Journal and is contained in the permanent collections of the Museum of the Everglades, Florida Museum of Art & Culture, and The Sonoran Desert Museum in Tucson.
---
Angelica Daneo
Associate Curator of Painting and Sculpture, Denver Art Museum
Special Curatorial Tour on Nov 13
A native Italian, Angelica Daneo brings her expertise and love of art to the Denver Art Museum (DAM) as the associate curator in painting and sculpture. Among other projects, Daneo curated Court to Café: Three Centuries of French Masterworks from the Wadsworth Atheneum and Drawing Room: An Intimate Look at French Drawings from the Esmond Bradley Martin Collection (2013); Cities of Splendor: a Journey Through Renaissance Italy (2011) and Landscapes from the Age of Impressionism (2008). She is the local curator for In Bloom: Painting Flowers in the Age of Impressionism (2015). She is the author of The Kress Collection at the Denver Art Museum (2011), and the Companion to European Painting before 1800 (2013). Prior to working at the DAM, Daneo conducted research in the early European art department of the Saint Louis Art Museum. In this position she assisted the curator in organizing the international exhibition Orazio and Artemisia Gentileschi: Father and Daughter Painters in Baroque Italy, as well as the symposium Artemisia Gentileschi: Taking Stock. Before her time in St. Louis, Daneo worked at the Smithsonian Institution in Washington, D.C., organizing the photographic art archives of the National Air and Space Museum, and installing exhibitions at the Smithsonian American Art Museum.
Daneo speaks fluent Italian, English and French, and has taught courses at the University of Denver and at the Saint Louis University. She graduated summa cum laude in the Humanities with a specialization in History of Art Criticism at the University of Turin in Italy.