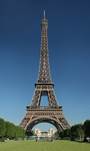 Organized by Vanessa Rothe & Galerie L'Oeil du Prince, Paris & Arcadia Contemporary, LA
Franco-American artist and writer Vanessa Francoise Rothe has invited Collectors for Connoisseurship to attend the Americans in Paris Exhibitions she has curated featuring the works of 15 of America's leading realist artists: Casey Baugh, Candice Bohannon, Ryan Brown, Casey Childs, Michelle Dunaway, Michael Klein, Olga Krimon, Brendan Johnston, Jeremy Lipking, Nicolas Martin, Julio Reyes, Vanessa Rothe, Aaron Westerberg, Katie Whipple, and Vincent Xeus.
Two bodies of work will be created by these artists to be shown in bi-continental exhibitions to be held in Los Angeles, CA at Arcadia Contemporary, opening on May 12th and at Galerie L'Oeil du Prince in Paris, opening on May 24th.
Wednesday, May 23rd: Welcome Reception & Lectures at La Grand Chaumiere Atelier
Welcome Cocktail Party hosted by C4C with Wine & Cheese & Lectures by Vanessa Rothe (Curator of the Americans in Paris Exhibition and West Coast Editor of Fine Art Connoisseur Magazine) re: the transition of Realism to Impressionism in Paris and the history of the Salon d'Art of Paris followed by the esteemed Dominque Sennelier 3rd generation chemist paint maker from Sennelier Paris and Pierre Guidetti importer and art supplier in America; and
Collector Dinner at La Coupole.
Thursday, May 24th: Sennelier, Musėe d'Orsay and Opening of Americans in Paris Exhibition at L'Oeil du Prince Gallery
Special Tour with Owners of Historic Sennelier Art Supplies Store that produced oil paints and pastel sticks for the Impressionists;
Tour & 3-Course Prix Fixe Lunch at the Musee d'Orsay; and
Opening Night of Americans in Paris Exhibition at L'Oeil du Prince Gallery.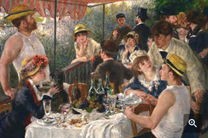 Friday, May 25th: Painting Excursion on the Seine: Train to Chatou and Museum Fournaise
Tour of Museum and Lunch at La Fournaise on the balcony where Renoir painted the famous "Luncheon of the Boating Party" shown here followed by painting by exhibition artists there on the Seine; and
Return to Paris for an evening of painting with instructors (including Shane Wolf) at the Paris Academy.
Saturday, May 26th: Rodin Museum and Musee Jacquemart-Andre Tour
Tour with Vanessa Rothe of Rodin Museum with Casual Lunch at Outdoor Café in Rodin Gardens;
Watch our Exhibition Artists painting in the Rodin Gardens; and
Afternoon Exclusive Tour of the Jacquemart-Andre Museum (including special exhibition of works by Mary Cassatt).
Banner Image Above: Ryan S. Brown, Sunset over Mont St. Michelle (2018 Americans in Paris Exhibition)