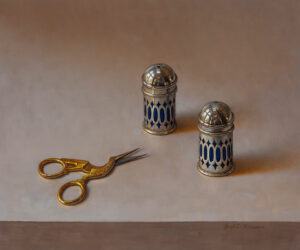 November 5-7, 2020
This catalogue contains the images of the works to be exhibited during the 2020 Windows to the Divine Exhibition at Space Gallery Annex in Denver, CO. Works by the following artists will be available for sale in advance of the event and are first-come, first-served:
---
Blair Atherholt, Carolyn Barlock, Jill Basham, Daniel Bilmes, Stephanie Birdsall, Gregory Block, Casey Childs, Lu Cong, Michelle Dunaway, Scott Fraser, Ann Gargotto, Ron Gerbrandt, Ulrich Gleiter, Albert Handell, Stephanie Hartshorn, Ron Hicks, Quang Ho, Jane Hunt, Carol Jenkins, Brendan Johnston, Andrea Kemp, Kyle Ma, David W. Mayer, Dan McCaw, Danny McCaw, John McCaw, Ned Mueller, C.W. Mundy, Desmond O'Hagan, Ron Richmond, Don Sahli, Jill Soukup, Daniel Sprick, Adrienne Stein, Cheryl St. John, Teresa Vito, and Vincent Xeus.
Proceeds from the art sales benefit the artist (60%) and the Foundation (40%). The dual mission of the Foundation is to support living artists (patronage) and the charitable works of the Dominican novices in Denver who volunteer to serve the homeless and impoverished elderly (philanthropic).
To acquire a work, contact Chairperson, Shannon Robinson via email or by phone at (303) 679-1365. Please check back frequently as more images will be coming.