Inspire, Educate, Collect
We are passionate about the importance of beauty and collecting art. As part of our mission to inspire everyone to become an art collector regardless of financial means, Windows to the Divine® offers unique educational and experiential programs that promote connoisseurship and connect artists and art lovers.
The photos in the slide show above were taken at the 2014 Collectors' Salon. Collectors watched a Windows exclusive "4-in-1 Paint About" where four artists (Lombardi, Soukup, O'Hagan and Weckbach) painted on each other's canvases in a rotation that resulted in four one-of-a-kind original works, each containing the brushstrokes and signatures of four great artists. We also offer special hands-on experiences for collectors including the Collectors' Brunch and Pastel Lesson seen above.
And don't miss Dueling Paintbrushes, a 21-minute video from a Windows Collector Salon exclusive, featuring a start to finish demonstration by artists Quang Ho and Kevin Weckbach painting on the same canvas. Or watch the 90-second sneak peek!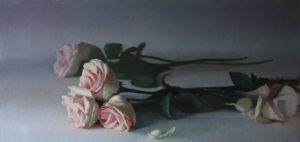 To fulfill our mission to promote connoisseurship and enrich the collector experience, in 2016, Windows to the Divine launched a new and unique community of collectors and artists called Collectors for Connoisseurship. This community engages one another online through our website and in-person through special events.
Banner Image Above:  Terrie Lombardi, Perfect, Windows Exhibition 2009 (Private Collection)