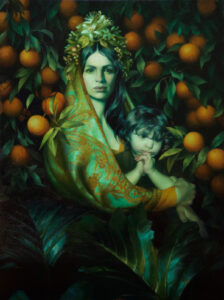 October 12, 2023 - October 17, 2023
Windows to the Divine, a Colorado-based non-profit foundation that encourages and fosters patronage and philanthropy through the arts, will host the 2023 Collectors for Connoisseurship (C4C) Arts Weekend in Denver from October 12-October 17. C4C collectors from around the country will travel to Denver to enjoy special events, private tours, sessions with exhibition artists and educational programming. The public is welcome to attend the Exhibition & Collector Salon which will be staged on Friday, Oct 13 and Saturday, Oct 14, respectively at Gallery 1261 at 1261 Delaware Street in Denver.
The weekend will include the national Windows to the Divine exhibition entitled Beauty & Spirit featuring the works of more than 25 nationally renowned artists, including to date:
Kathy Anderson, Blair Atherholt, Stephanie Birdsall, Kelly Birkenruth, Greg Block, Casey Childs, Scott Fraser, Ulrich Gleiter, David Gray, Stephanie Hartshorn, Quang Ho, William Hook, Jane Hunt, Brendan Johnston, Andrea Kemp, Lynn Kircher, Terrie Lombardi, Kyle Ma, Huberto Maestas, Dan McCaw, Danny McCaw, John McCaw, C.W. Mundy, Desmond O'Hagan, Ron Richmond, Don Sahli, Jill Soukup, Daniel Sprick, Adrienne Stein, and Vincent Xeus.
The Opening Reception will be held on Friday, October 13 at Gallery 1261 from 4pm to 8pm. A highlight of the Opening will be the presentation of the Fra Angelico Artist of the Year Award to Adrienne Stein. Prior recipients of the award: Huberto Maestas (1999), Emilio Lobato and Madeleine Dodge (2001), Sr. Adele Rowland, O.P. and Joshua Mulder (2003), Lynn Kircher (2005), Quang Ho (2007), Ramon Kelley (2009), Don Sahli (2011), William Hook (2014), Albert Handell (2016), Dan McCaw (2018), and Vincent Xeus (2022).
The Collector Salon will be held on the morning of Saturday, October 14 and will include educational presentations by:
Peter Trippi, Editor-in-Chief, Fine Art Connoisseur Magazine: Pre-Raphaelites Primer for Italy 2024 Exhibition
Shannon Robinson: Sacred to Secular Art: Tracing the History of Western Christian Art.
More information about the exhibition and the weekend events will follow. Please check back this summer for reservations and updates!