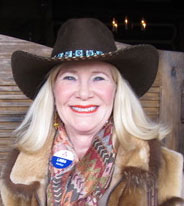 Linda Van Gilder Kelley's art career began when she was 13 years old and won a painting contest in her hometown of Middletown, Ohio. She attended Miami University and Ohio University (B.S. with a Minor in Art). She received a Master's degree in Educational Communications at the University of Hawaii in 1974.
While teaching in Hawaii she began to sell some of her paintings and do private commissions.
Linda continued her art studies at the Denver Student Arts League and the Honolulu Museum of Arts Linekona Center.  She has studied with Dennis Pendleton, Kim English, Ellie Weakley, Karen Vance, Terrie Lombardi, Boris Shoshensky, and Quang Ho.
Linda actively promotes the work of living artists.  She is a member of Collectors for Connoisseurship (C4C) and has supported Shannon Robinson's Windows to the Divine for many years.
Linda paints in her home studio in South Denver and with various artists when she travels.  She can work in all mediums but prefers watercolors and acrylics. Her favorite subjects are landscapes and anything nature creates.  Linda's work is on permanent display in the Nagel Hall Art Collection at the University of Denver.  In addition her work can be found in private collections in Sweden, Ireland, Australia, Arizona, Colorado and Hawaii.
Selected Shows and Events:
Beauty Thru Art Plein Air Invitational, June 29, 2019, Bow Mar, CO
One Woman Show, University of Denver, October -November, 2016
Cedar Street Galleries, Honolulu, HI
Boarding House Studio Galleries, "Holiday Art Market," December 2012, Denver, CO
Boarding House Studio Galleries, "Fall Show," November 2012, Denver, CO
Cedar Street Galleries, "Matchbox Plus VIII Show," November 2012, Honolulu, HI
Rady Barn, "Art Auction," September 2012, Cherry Hills Village, CO
Madden Museum of Art, "This is Colorado" Juried Art Exhibition, Sept.2012, Denver, CO
Cedar Street Galleries, "Matchbox Plus VII Show," November 2011, Honolulu, HI
Breadworks, "Sunset Studio Show," March 2011, Boulder, CO
CBS Television "Hawaii Five-O," painting featured in "E Malama," February 7, 2011
Madden Museum of Art, "This is Colorado" Annual Juried Art Exhibit, 2011, Denver, CO
Denver Athletic Club, "Artists of Sunset Studio Exhibition," October 2010, Denver, CO
Brushstrokes Studio-Gallery, "Colorado Mauka-Makai Show," June 2010, Denver, CO
The Mask Project 2010 and 2011 (a benefit for the Denver Hospice), Denver, CO
Outrigger Reef Hotel, "Mauka-Makai Show," February 2010, Honolulu, HI
Punahou School, "Carnival Art Gallery," February 2008 and 2010, Honolulu, HI
RedShift Gallery, "Winter Exhibit," January 2009, Denver, CO
Juror: National show, "Altitude and Attitude", Windows to the Divine, Denver, CO 2012
Web:  www.lindavgkelley.com – Email: [email protected] – Cell: 303) 475-5531
Printed: May 24, 2019