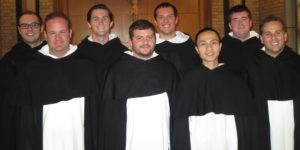 The seven-year process of becoming a Dominican priest or brother (known as friars) is called formation. The first step of formation in the Central Province is living and studying for one year at the Novitiate in Denver as a "novice" under the supervision of a Dominican priest known as the Novice Master. During this year of study and discernment, the novice experiences the Dominican way of life by living in community with the Dominican friars at St. Dominic Priory. Novices engage in prayer, study, and various ministries in Denver.
Ministries
During the year of discernment and formation, Dominican novices touch the lives of many people in Denver through their ministry work in the community. Since the Novitiate was established in Denver in 1977, our novices have had the privilege of working with the remarkable and compassionate Little Sisters of the Poor at Mullen Home in the historic Highlands district of Denver. Our novices have also had the privilege of working with the homeless and the inspiring staff of Samaritan House who are making a difference in the lives of Denver's homeless adults and families. Novices also inspire youth by teaching at St. Vincent de Paul School and Escuela de Guadalupe.
Formation
The Dominican formation process is both rigorous and balanced to ensure that candidates are well-adjusted and suited to this special calling. By offering a unique combination of tradition and contemplative life (wearing a habit, engaging in common daily prayer) balanced against preaching, teaching and ministry in the greater community, the Order seeks to produce well-rounded, spiritually mature men who will provide outstanding leadership and genuine pastoral care to the People of God.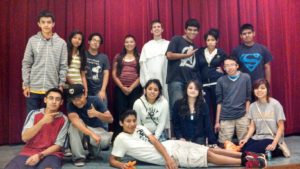 The second step of formation occurs after the novice completes his year-long process of study, discernment and ministry in Denver. After taking first vows at St. Dominic Church in a ceremony called "Profession of Vows," the novice becomes a professed student brother and moves to St. Louis to attend Aquinas Institute of Theology. During their graduate studies there and prior to ordination, student brothers again devote considerable time to their ministries, including working with youth ministries.
Since 2011, the Central Province has educated and trained 22 novices, 18 of whom are now student brothers who are continuing their graduate studies and are expected to be ordained.
Find out how art lovers and collectors can support the work of the Dominicans.
Banner Image Above: Christine Hauber, Central Park, Windows Exhibition 2014 (Private Collection)